Stanly County Concert Association
Get Season Tickets for the 2019-2020 Season
-
Want to order season tickets my mail? That's easy. Just click here for our PDF form. Fill it out and send it to us.
Three Citizens With An Idea
In 1947 Paul Fry, the high school choral director, Katherine Almond, the elementary music teacher and Ralph Groves, a business man who just happened to play violin, met in the band room of Albemarle Senior High School to discuss bringing professional concerts to Stanly County. A letter to Columbia Artists in New York brought Mr. James Wolfe to Albemarle on January 16, 1948 where he met with Chamber of Commerce member Bill Page and Mrs. David Morrow to discuss bringing famous artists to this rural area. Three days later, Mrs. Morrow had filled membership kits, made phone calls and organized a banquet at the Albemarle Hotel where eighty volunteers officially organized Stanly County Community Concert Association. The one week campaign netted 403 adult and 126 student (total 529) memberships at $6 per adult and $3 per student. Attendance would be by membership only. Helen Jepson, a Metropolitan Opera soprano, presented the first concert at Albemarle High School.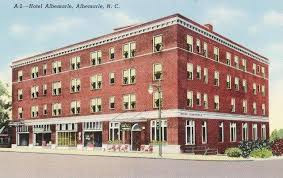 The 50s and 60s
In the 1951-52 Season, the all-volunteer Board of Directors system and Bylaws were established and continues today. Articles of Incorporation as a non-profit organization was granted in 1983.
In 1954 Pfeiffer College purchased a block of 150 tickets for students and faculty and the joint relationship between community and higher education would strengthen the organization over a 35 year span. Pfeiffer College, with the larger venue, hosted many concerts including one where over 3,000 school students were transported for one show.
Reciprocity with Concord and Asheboro began in 1964-65. Currently SCCA reciprocates with Randolph, Iredell, Lincoln and Rowan Counties which means members are privy to some 20 to 25 concerts throughout the area.
The Agri-Civic Center
The Stanly County Agri-Civic Center, completed in 1989, became the permanent home for concert association. The modern 1,050 seat theatre allows not only ample space for the 700+ members and reciprocal guests, but also for single ticket sales. Currently the membership hales from not only Stanly but also surrounding counties.
NC Presenters Consortium
 In 2001 the organization joined the North Carolina Presenters Consortium, a non-profit group dedicated to bringing the highest quality professional artists to the state. With over 100 presenting organizations and 120 associate members made up of artists, agents and performing companies, SCCA has been able to bring the best artists to our community. SCCA also strives to provide educational outreach in the performing arts to school, church and private music groups.
Well Known Artists
Well known artists have included Ferrante & Teicher, The North Carolina, Greensboro and Charlotte Symphonies, Mickey Rooney, The Les Brown, Benny Goodman, Guy Lombardo, Glenn Miller, Russ Morgan, Tommy Dorsey Orchestras, The Drifters, Ink Spots, Platters, Moody Brothers, "1964" Beatles Tribute, Emile Pandolfi, BJ Thomas, Mac Frampton, David Holt, Lawrence Welk Stars, Mr. Jack Daniels All Silver Band, military bands, jazz, country, folk, blues plus numerous shows from throughout the world. SCCA has presented ballet, opera, brass and woodwind quintets, Nashville and Broadway artists.
As the 73rd Anniversary of concert association is this 2019-2020 Season, a debt of gratitude goes to the Citizens of Stanly County for keeping the performing arts alive and prosperous. The dedicated Board of Directors, the local newspaper and radio sources, the many individuals and businesses who support SCCA beyond a single ticket membership and all the members who so faithfully attend the shows have made Stanly County Concert Association the success it enjoys today.
Stanly County Concert Association (SCCA)